Feral swine numbers are on the rise in the United States.  Likewise, the problems they cause are also growing. Fortunately, feral swine are not currently present in Montana. To ensure Montana remains free of feral swine, Montana law requires that any sighting of potential feral swine be reported immediately to the Montana Department of Livestock by calling 406-444-2976.  
Click the highlighted link below to go directly to that section.
Why we care about feral swine in Montana: Damage and Disease 
Damage
Feral swine:
Pollute water sources for native wildlife and humans.

Consume native wildlife and plants and jeopardize their population and health.

Compete for food and habitat resources with native animals.

Rooting causes erosion and can compromise sensitive ecosystems as well as render some areas impassable for farm machinery.

Prey on the young of livestock and wildlife such as kids, lambs, and deer fawns.

Prey on ground-nesting birds.

Harbor diseases (swine brucellosis, pseudorabies, tuberculosis, and others) and parasites, which can impact the livestock industry.

 
Disease
Feral swine carry parasites and other pathogens (viruses and bacteria), which can be transmitted to livestock animals.  Furthermore, feral swine can carry foreign animal diseases, including African Swine Fever (ASF), Classical Swine Fever (CSF), and Foot and Mouth Disease (FMD).  Diagnosis of any of these foreign animal diseases in the U.S. would have a significant negative impact to the livestock industry causing loss of trade agreements, requirements to stop movement of animals/animal products, livestock loss, and loss of millions of dollars to the industry.  Additionally, some of the diseases that feral swine carry can be transmitted to humans. 
Feral swine may carry:
*Zoonotic (can transfer to and cause infection in humans)
Montana Regulations and Response
The Department of Livestock is the authority on feral swine per MCA 81-29-101.  DOL has partnered with Montana Fish Wildlife and Parks (FWP), USDA Wildlife Services, and the Montana Invasive Species Council (MISC) on outreach efforts and response to reports of feral swine.  
If DOL, FWP, USDA Wildlife Services, or MISC receive report of feral swine the details are recorded and relayed to all Feral Swine Notification partners.   
Regulations
In Montana, feral swine are regulated by the Department of Livestock.

Montana's definition of feral swine includes animals living in an untamed or wild state, as well as swine that appear to be contained for commercial hunting or trapping.

Only those entities authorized by DOL may take feral swine on public lands.

Introducing, transporting, and releasing feral swine in Montana is illegal.

Hunting feral swine in Montana is illegal.

Feeding feral swine is illegal

.

Private landowners and public land users must notify the Department of Livestock immediately following a sighting of feral swine.

Feral swine sightings must be reported within 24 hours and should be made to the Department of Livestock emergency reporting number 406-444-2976.

Penalties for violation of Montana law includes fines of at least $2,000 but not more than $10,000 for each violation.

 
Response
DOL will deploy staff to investigate reports of feral swine to ensure that swine are not owned animals. 

 

Following investigation of feral swine report, swine may be humanely retrieved by DOL or authorized staff.  

 

Analysis of physical characteristics and genetic testing are performed to determine if the swine are feral.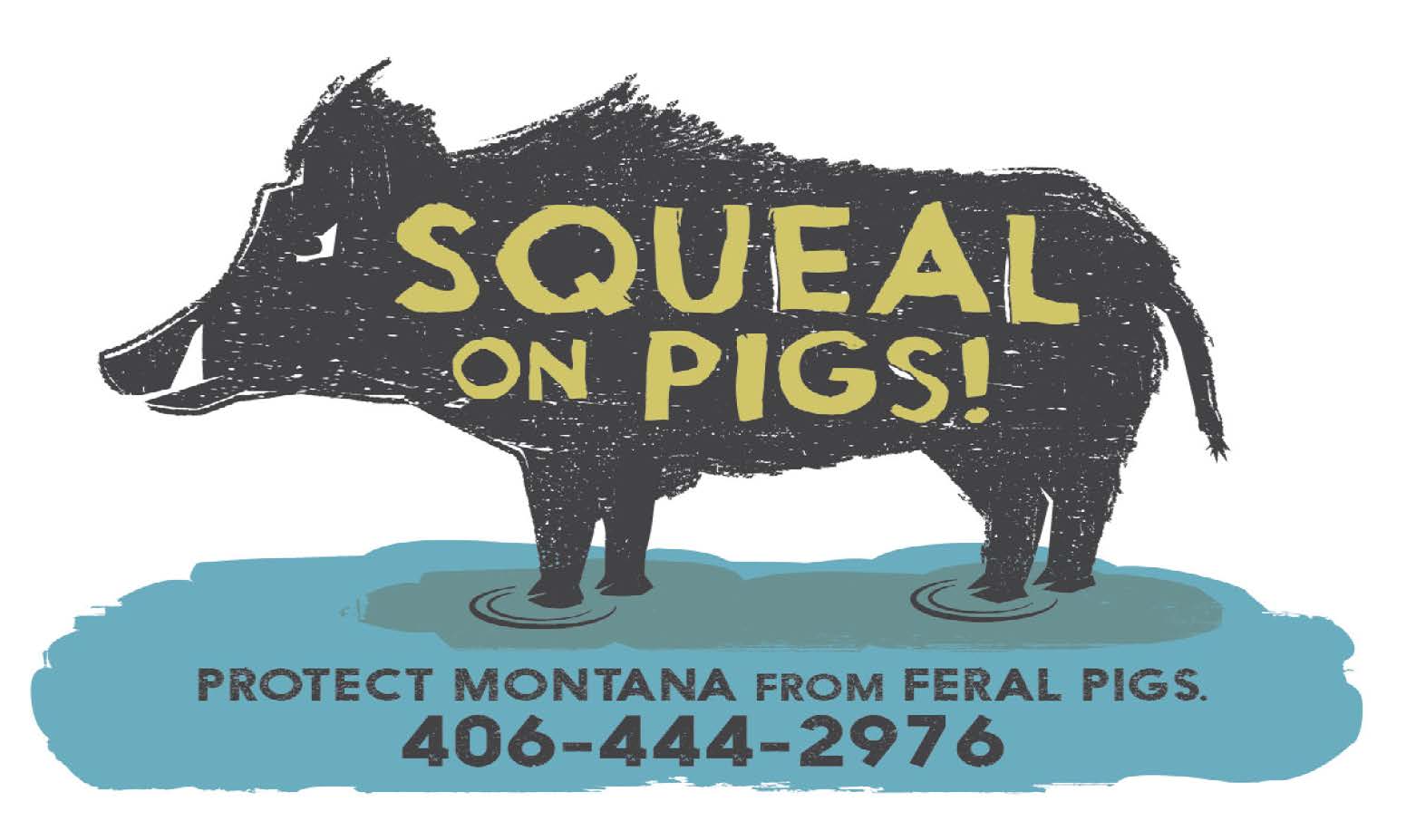 Hunting feral swine is illegal in Montana
Due to their reproductive efficiency, and movement behavior, swine cannot be eradicated by normal hunting practices.

 

Hunting pressure that fails to eliminate all animals in a group (sounder) can result in further dispersion of animals.

Feral swine that have experienced hunting pressure become more difficult to are harder to eradicate.

All potential reports of feral swine in Montana that have involved live animals have proven to be owned animals. 

 
---
United States Feral Swine Population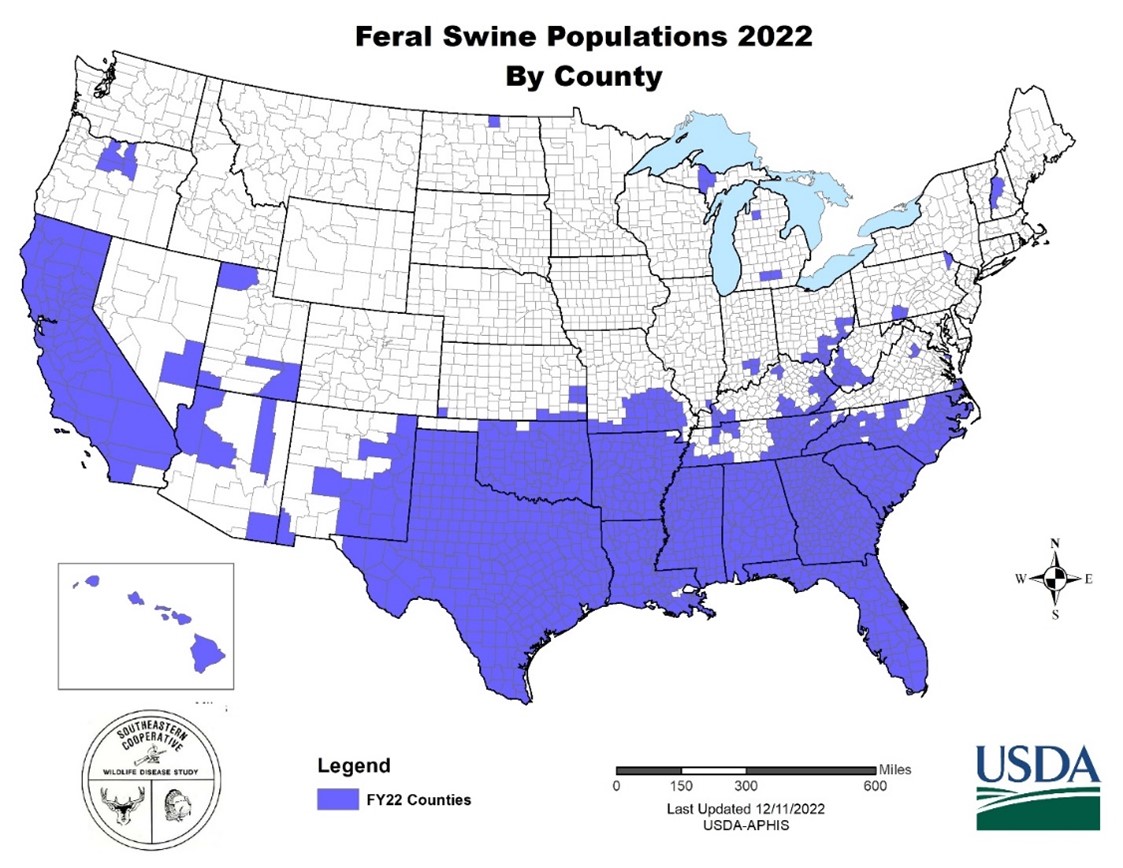 Source: USDA Wildlife Services Webpage  
Additional Resources